New Patients
Your first visit is actually a complimentary orthodontic exam and consultation. Here you will get to meet with Dr. Hiremath and his staff, share your concerns and learn about your specific treatment needs. Following an exam, he will share his initial findings with you. Should he recommend treatment, he will provide you an overview of your treatment plan, the timing and the length of treatment, the costs involved and any other areas that impact successful orthodontic outcomes.
Should you decide to move forward with Hiremath Orthodontics, we will schedule you for diagnostic records appointment where we will take any additional X-rays, impression of you teeth, and photographs of you teeth and face. If at you initial consultation you decide to use our services, you may opt to have your diagnostic records taken at this appointment instead of scheduling a separate appointment.
Please call us at the phone number on the top of the page or use the contact us section to schedule your free consultation today.
New Patient Form (online)
Orthodontic Consent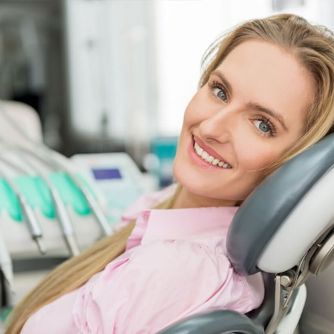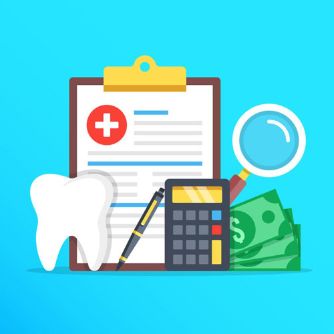 Financial Information
Hiremath Orthodontics offers in-house, interest free financing with no credit check, and low monthly payments as an affordable option for patients if needed. It is our mission to provide you with affordable, high-quality treatment that fits your budget! We offer a variety of payment options to meet your needs. Our office accepts payments by cash, checks, and Visa, MasterCard and American Express credit cards. Call to inquire about financing and if you have any questions about payments, ask us! We will thoroughly explain your choices and work hard to accommodate your needs. Our aim is to make orthodontic treatment available to all who truly have a need. We are more than happy to make special arrangements to meet different circumstances such as multiple children in braces, blended families, etc.
Insurance
If your insurance covers orthodontic treatment, you will receive the benefit of reduced personal costs. Many insurance policies have a lifetime orthodontic benefit that is distinct from regular dental insurance. Remember that insurance policies vary, and we will review your insurance to determine the appropriate course of action. Once treatment has started, we will file your claims.
Please remember that orthodontic insurance is a benefit for you or your child. If, during the course of treatment, your benefits change, the financially responsible party is accountable for all charges.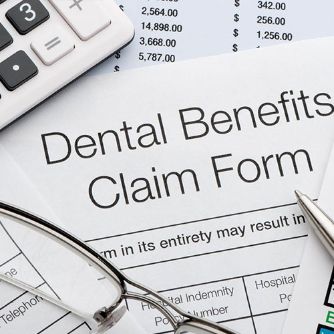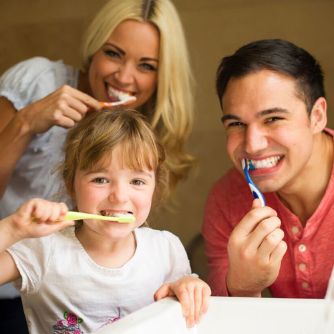 Patient Education
Part of our commitment to serving our patients includes providing information to help them make an informed decision about their braces and oral health care. We invite you to browse through our website and call us to schedule an appointment today!
Always use a toothbrush with soft bristles and a pea-sized amount of fluoride containing toothpaste. When you brush your teeth, move the brush in small, circular motions to reach food particles that may be under your gum line. Hold the toothbrush at an angle and brush slowly and carefully, covering all areas between teeth, between braces and the surface of each tooth. It will take you several minutes to thoroughly brush your teeth. Brush upwards for the lower teeth, downwards on the upper teeth and the outside, inside of each tooth and chewing surface of your front and back teeth. Also brush your gums, tongue and the roof of your mouth before you rinse.
Especially during orthodontic treatment, brush your teeth after every meal to prevent the accumulation of food particles in between your teeth and braces:
Morning's after breakfast
After lunch or right after school
After supper
At bedtime
Replacing toothbrush
You will need to replace your toothbrush more often due to your appliances. As soon as the bristles start to wear down or fray, replace your toothbrush with a new one. It may be difficult for your toothbrush to reach some areas under your archwire. Do not swallow any toothpaste; rinse your mouth thoroughly with water after you finish brushing. It is important to floss and use an antibacterial mouthwash and fluoride treatment throughout your orthodontic treatment and beyond for optimal oral hygiene.
For areas between the teeth that a toothbrush can't reach, use dental floss to remove food particles and plaque. Flossing takes more time and patience when you are wearing braces, but it is important to floss your teeth every day.
Use the reusable floss threader provided by our office to floss under your archwire daily (you can also find floss picks at your local grocery store and most pharmacy's for convenience of flossing). Pull a small length of floss from the dispenser through the threader and slide it up and down along the front of each tooth.. Use care around your archwire and do not floss too forcefully around it or put too much pressure on it. After you floss between your archwire and braces, floss between your other teeth and gums. Floss at night to make sure your teeth are clean before you go to bed. When you first begin flossing around your braces, your gums may bleed a little.
A water pick is like a pressure water sprayer for your teeth and gums. Water picks can also be found at your local grocery stores and most pharmacy's. Water picks help cleans your teeth thoroughly and makes it a lot easier, and faster to get to hard to reach spots when used along with brushing. All while massaging your gums to help prevent and ease sore, swollen, and bleeding gums.
All orthodontic patients must get cleanings prior to getting braces and follow up cleanings every 3 to 6 months. Don't forget to keep your smile healthy, white, and shiny!!!
What can you eat? Let's talk about what you shouldn't eat! If you've been wanting to drop a few pounds, the first week wearing braces is just your chance! For the first day or so, stick to soft foods. Avoid tough meats, hard breads, and raw vegetables.
Foods to Avoid
For most situations, common sense will tell you what to avoid. Hard foods, sticky foods and foods high in sugar must be avoided. Hard foods can break or damage wires and brackets. Sticky foods can get caught between brackets and wires. Minimize sugary foods; they cause tooth decay and related problems. Nail biting, pencil and pen chewing and chewing on foreign objects should be avoided.
Examples of Sticky Foods to Avoid:
Regular bubble gum
(sugar-free only)
Licorice
Sugar Daddies
Toffee
Tootsie Rolls
Caramels
Starburst
Examples of Hard Foods to Avoid:
Ice
Nuts
Hard taco shells
French bread crust/rolls
Corn on the cob
Apples and carrots
(unless cut into small pieces)
Bagels
Hard Chips
Popcorn
Jolly Ranchers
Pizza crust
Uncooked carrots
(unless cut)
Minimize Sugary Foods like:
Cake
Ice Cream
Cookies
Pie
Candy
Only Once a Day:Soda
Sweetened tea
Gatorade
Kool-Aid
Drinks with sugar
It's important to regularly check your braces for bent or loose wires and brackets. In the event of a loose/broken wire or bracket, save your broken pieces and bring them with you to your appointment and call our office immediately to arrange for a longer appointment for repair.
Orthodontic Emergencies
Most orthodontic concerns can wait until the office re-opens. However, in case of an emergency you can always reach us after hours. Please review the suggestions below. If you are still in need of after hour assistance, please call our office and you will be instructed on how to reach Dr.Hiremath or the on-call orthodontic clinician.
When you first receive your braces or your orthodontic appliance, sore spots may develop on your cheeks. To protect your cheek, place wax on the offending bracket, wire or appliance. During non-sleeping hours, cotton rolls can be placed between the appliance and your cheek to provide relief. Rinsing with warm salt water several times a day is very soothing to your gum and cheek tissues. The cheeks will toughen up after a short while. If you have used all of the wax provided to you, orthodontic wax can be purchased at a pharmacy and we will be happy to supply you with more on our next working day.
You may take an over-the-counter pain reliever such as Tylenol or Advil as you would for a headache or similar discomfort. Soreness can be expected for 3-5 days after an adjustment. Good tooth brushing, warm saltwater rinses several times a day and very carefully chewing on a half piece of sugarless chewing gum will help alleviate the pain and help your mouth feel "back to normal" much more quickly.
Please call us on the next business day if you have a loose bracket. A broken bracket is not an orthodontic emergency. A broken or loose bracket should be fixed in a timely manner. Braces are repaired during the quieter times in the office (11am – 2pm). If you don't call to let us know that you have a broken bracket and make a longer appointment we may not have time to fix it. Don't forget to bring whatever breaks with you to your appointment so we can repair it!
If your expander becomes loose, please contact our office immediately.
If you lose your retainer or your retainer breaks or cracks, please contact our office immediately.
Place wax over the poking/broken wire. If the wax does not help please call us and we will clip the wire to make you more comfortable. Poking wires are very common as the teeth move.
If you have a traumatic injury resulting in cuts to your lips or gums or if you have a loose tooth, please contact our office immediately. If you have broken any part of a tooth, you will need to contact your family dentist. If you suspect that your jaw has been injured or notice that your teeth have been moved by the accident, contact us, you may also need to be seen by an oral surgeon.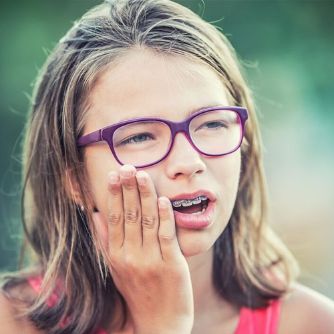 What people are saying about Hiremath Orthodontics & Pediatric Dentistry
Very nice and welcoming . I love the calmness environment here. They have a kids room, which is very helpful when I can't get a sitter. Schedule appointments is easy and convenient they have early morning appointments and open Saturday's. I've never experience any pain or discomfort after an adjustment. Higly recommend this place .

Susan Harshman


September 13, 2018