3D Imaging
The new ORTHOPHOS XG 3D, a hybrid solution from Sirona.
The new ORTHOPHOS XG 3D combines the advantages of 2D and 3D into one comprehensive unit. With an extensive selection of panoramic and cephalometric programs to choose from, the right 2D diagnostic images are now augmented with the ability to capture 3D X-ray.
The new hybrid unit from Sirona requires about the same space as a traditional 2D X-ray machine, but now provides the advantages of 2D and 3D together in your practice while encouraging the lowest possible effective dose for the patient.
Key advantages
Simple patient positioning – the operator has a clear visual of the area to be scanned
The Auto-Positioner enables the operator to take images with confidence
Intuitive control with the Easypad touchscreen makes program selection fast and easy
Automatic sensor rotation eliminates the need for manual sensor change
Multiple 3D scan regions allow the operator to scan only the region of interest
A short scan time ensures patient movement during the scan is kept to an absolute minimum
Easy navigation of the 3D volume allows you to scan the volume quickly and with confidence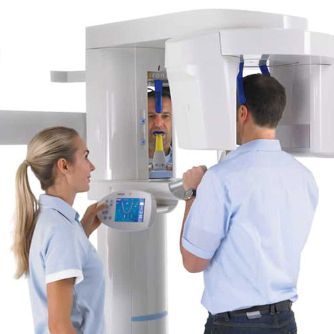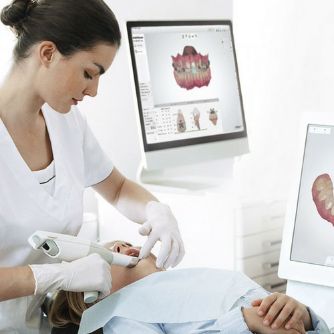 Intra-oral Scanner
The 3Shape TRIOS dental intraoral scanner is a hand-held 3D scanning tool that is redefining the fundamentals of digital impression techniques in the dental industry.
The 3Shape TRIOS dental intraoral scanners allows Dr. Hiremath to display a 3D-impression of you teeth on a screen almost immediately after the scan is complete. After seeing an up-close view of a digital impression, you can grasp a better understanding of the condition of your teeth. The scanner also develops impressions in full color to aid the dialogue between you and Dr. Hiremath, and improve treatment.
Restorations made from 3Shape TRIOS dental intraoral scanners are not only completed faster, they are also delivered with a more accurate fit and require less adjustments. These scanners have the ability to measure the shapes of teeth for digital precision while also highlighting details with the incorporation of high-level HD pictures in the 3D model. In addition, the precision of 3Shape TRIOS dental intraoral scanners reduces the need for remakes, so you don't have to worry about coming back to the dentist for a do-over.
What people are saying about Hiremath Orthodontics & Pediatric Dentistry
Very nice and welcoming . I love the calmness environment here. They have a kids room, which is very helpful when I can't get a sitter. Schedule appointments is easy and convenient they have early morning appointments and open Saturday's. I've never experience any pain or discomfort after an adjustment. Higly recommend this place .

Susan Harshman


September 13, 2018